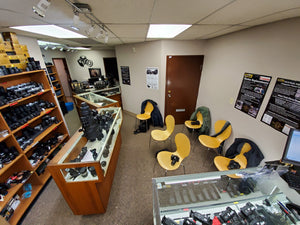 DSLR Camera Basics - For Beginners



Duration: 3hrs
Time: 6pm to 9pm
Place: Paramount Camera Repair
Cost: $189

Take Control of your camera!

This Saskatoon Beginners Camera Class is for anyone who is tired of shooting on auto, wants to know what ISO, Shutter Speed and Aperture mean, and how to use them.

Loaded with valuable information on the basics of light, gear and shooting, you will leave the workshop with a much higher understanding of how your camera works, how to use it and how to maintain it.
Plus many extras like How to Buy Used Gear, How to Clean your Camera, Raw vs Jpg and much more!

There is always time for Q & A and we keep the classes small and personalized, 4 to 8 people, so everyone gets a chance to ask questions specific to their camera.

You will need a DSLR camera with at least one detachable lens.

Included in the DSLR Camera Basics Class:

How a DSLR Camera works

How a Mirrorless Camera works

How a Lens works

How to read camera/lens specs and abbreviations

Aperture, ISO & Shutter Speed

What is Noise and how to control it

How to use M, Av, Tv and P modes

Focus modes and how to use them

Full Frame vs Crop Sensor

Composition, how to frame your shots

What is Bokeh and how to use it and get it

Raw vs Jpg

Single Shot vs Continuous

Common camera and lens myths

How to get sharper images

How to buy used gear the smart way

Depth of Field, what is it and how to use it

And more.....