We are experiencing extremely high service volumes. Diagnostics and repairs may be delayed with wait times of approximately 2 to 4 weeks depending on shop load.
At times it may take us a few days to respond to emails and messages.
Rush diagnostics is available in 1 to 2 days for $150.
Local cleaning and calibrating is usually done by next day for pickup.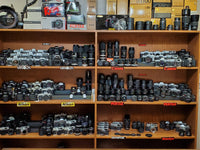 The only Camera Repair Shop you will ever need
  Paramount Camera Repair has quickly become one of the most trusted and reliable camera repair shops in Canada. We receive hundreds of cameras and lens from all over Canada and the US every year. And have a full service walk-in shop and store front right here in Saskatoon.
  We service all current makes and models of digital cameras and lenses. We also service and repair older and previous models of digital cameras and lenses that manufacturers won't support anymore. From cleanings and calibrations to full lens rebuilds, we have you covered.
  We also are a Full-Service shop for all film camera restorations, CLAs, shutter adjustments and rangefinder calibrations.  From full Leica rebuilds to large format shutter restoration.
Repairs, Check. Cleaning, Check. Used gear & New Accessories, we got that too.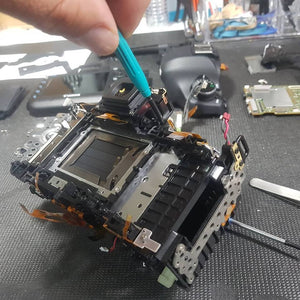 Repairs, Servicing & Calibrations
From card reader errors to Shutter replacements to full lens rebuilds, we have the tools, experience and advice you need to keep your gear Reliable and Accurate. All equipment is adjusted to exceed factory specs for optimal performance and we stand behind all our work with a 90 Day warranty on repairs and a 1 year Warranty on Shutter Replacements.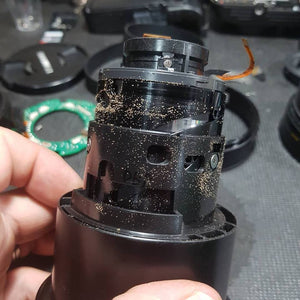 Cleaning and Inspections
Not only have we cleaned some of the worst lenses and cameras, but we are also fully equipped to Realign and Recalibrate your equipment after assembly. A vital and often neglected part of reassembling lenses and cameras. So no more waiting weeks and paying huge bills for cleanings with no warranty from the manufacturers.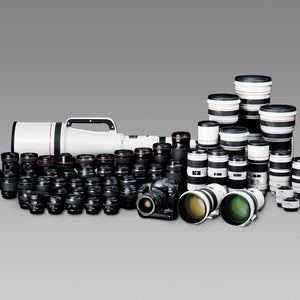 Used Cameras/Lens - New Accessories
What makes us the best place to buy Used Gear?  Every piece of gear we sell is Inspected, Cleaned, Tested, rated and guaranteed by our 90 Day Warranty.
Plus, our online store uses real-time shipping quotes and live inventory. Or visit our Store the best prices in town on all New Accessories.
FREE 3pc Camera/Lens Cleaning Kit ($29 Value)
With the purchase of any Digital or Film camera body.
Add a cleaning kit to your cart for the discount.
Limit of 1 per order.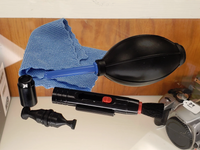 Recently added Film Cameras

Commercially Licensed Focus Calibration Test Center
We are commercially licensed with Reikan Technology Ltd as an Advanced Service Provider and Test Center.
We were looking for an accurate and advanced software to automate checking focus adjustments after calibrating with Nikon and Canon service software, as well as verifying sensor deviation measurements after repairs. Reikan software was perfect for ease of use, advanced testing and graphical printouts for our customers.
Want Tack Sharp Images?
We Proudly Service all Models of
Mail-In Self-Serve Repair, Cleaning & Maintenance