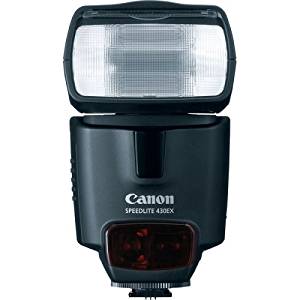 In excellent condition.
Also includes our 3 Month Warranty.
Type
Mode: E-TTL II, E-TTL, TTL
Compatible Cameras
All Canon EOS cameras; PowerShot Pro1, G6, G5, G3 and G2
Guide Number
141 ft./43m (at ISO 100); flash head at 105mm zoom setting
Flash Coverage
Fixed condenser lens with inner zoom: (1) Auto Zoom, (2) Manual Zoom, (3) Wide Panel
Zoom positions: 24mm, 28mm, 35mm, 50mm, 70mm, 80mm, 105mm; Indicated by numerals on the LCD's focal length display
Image Size Zoom Control: With cameras compatible with auto zoom, it zooms automatically to match the camera's image size
Number of Flashes
Approx. 200 to 1,400, with AA-size Alkaline Batteries manufactured within the last three months or AA-size Ni-MH fully charged batteries.
Recycling Time
Approx. 0.1 to 3.7 seconds (AA-size Alkaline Batteries)/0.1 to 2 seconds (AA-size Ni-MH batteries)
Flash Range
At ISO 100, with EF 50mm f/1.4
For normal flash: Approx. 2.3-79.7 ft./0.7-24.3m
For high sync speed (EF flash): Approx. 2.3-39.4 ft./0.7-12m
AF Assist Beam
Built-in; covers all focus points in EOS cameras up to 9 AF points
Effective range:
At center: Approx. 2.3-32.8 ft./0.7-10m
Periphery: Approx. 2.3-16.4 ft./0.7-5m (in total darkness)
Custom Functions
Six user-selectable Custom Functions built-in; set on Speedlite's LCD panel
Power Source
Four AA-size Alkaline Batteries (6V)
Four AA-size Ni-MH (4.8V)
Dimensions
2.8 x 4.8 x 4.0 in./72 x 122 x 101mm
Weight
11.6 oz./330g (without batteries)