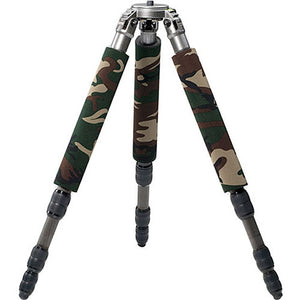 Camo Neoprene Cover.
Lenscoat part number LCG5530SFG

Brand New.

Improve the comfort and functionality of your Gitzo GT5530S or GT5560sgt tripod with the made in the USA, forest green camo LegCoat Tripod Leg Protectors 3-pack from LensCoat. It's called a 3-pack because there is one LegCoat for each tripod leg–enough for one tripod. The closed-cell neoprene and heavy-duty padding provide cushioning and cold weather comfort for you, and scratch and impact protection for tripod legs. Touch-fastening fabric facilitates easy installation and removal. This classic forest green camouflage pattern is well-suited for general use in wooded areas.
Made from shock-absorbing neoprene
The LegCoat creates a thermal barrier that makes the tripod easier to handle when outside in temperature extremes
The neoprene material is lightweight and designed to be comfortable against your body