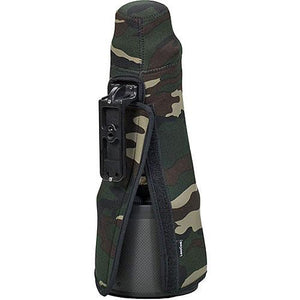 Camo Neoprene Cover.
Lenscoat part number TC200400VRFG.
Brand New.

The forest green TravelCoat for the Nikon 200-400 VR AF Lens from LensCoat is a 3.0mm thick shock-absorbing closed-cell neoprene lens cover. It was designed to fully protect your lens without the need for a more comprehensive lens case. It allows more valuable room in your camera bag for other necessities. The coat slides over the lens, and closes with a secure touch fastener.
This classic forest green camouflage pattern is useful for when you are shooting in wooded areas.
3.0mm thick shock-absorbing closed-cell neoprene lens cover
Protects the lens from bumps and scratches when not in use
Cover slides over the lens, and closes with a secure touch fastener
Compatible with Nikon Zoom Telephoto AF Zoom Nikkor 200-400mm f/4 G-AFS ED-IF VR (Vibration Reduction) autofocus lens