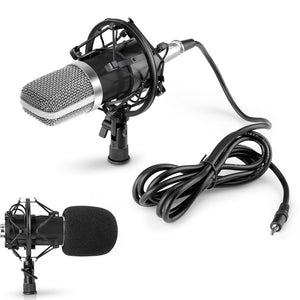 The Set Includes: The Set Includes: (1)Black NW-700 Professional Condenser Microphone + (1)Metal Microphone Shock Mount + (1)Ball-type Anti-wind Foam Cap + (1)Microphone Power Cable.
The professional condenser microphone adopts the completely new audio circuit. Capture rich, full-bodied sound from sources that are directly in front of the mic. The cardioid pick-up pattern minimizes background noise and isolates the main sound source. 
The metal shock mount features an angle adjustment with locking knob and can effectively reduce handling noise. 
The ball-type anti-wind foam cap can protect microphone against wind interference and singers' spit.
The set can be used for karaoke, in sound reinforcement or recording, to pick up voice or instruments, indoors or outdoors.
NOTE:
1.The Condenser Microphone only works with the device that could provide enough power(Voltage Required:5V) for it.
When connected with desktop computer, the Microphone could be used alone;
When connected with laptop computer, please connect the laptop to electrical outlet, or use a 48V phantom power to get enough power if the sound is not clear and high enough.
2.If your device could not provide enough power(when used with Amplifier or Mixer, etc.), the sound volume recorded might be low, and please use a extra 48V phantom power adapter to connect it.(phantom power adapter is not included).
3.The microphone can not be used with mobile phone and tablet computer. NOTE: It cannot work with Mac.
4.If you want better sound effect, a sound card should be used.
5.When recording, please put the microphone away from the amplifier to prevent recording noise due to amplifier.
(1)Condenser Microphone:
The professional condenser microphone has a cardioid pick-up pattern that isolates the main sound source and minimizes background noise, highlighting the performance with smooth frequency response range for best vocal.
Gold-sputtered diaphragm for accurate sound reproduction.
Low noise, wide dynamic range and high sensitivity output. Widely used in recording studios, radio, stage performances.
Fashionable design. Noble and elegant appearance.Sturdy and durable.
Body Weight: 11oz/316g
Color: Black
Material: Metal
(1)Metal Mic Shock Mount:
Isolate most studio condenser mics from physical vibration, floor, and stand noise.
(1)Ball-type Anti-wind Foam Cap:
Reduce the occurrence of wind, breath sounds and popping noises.
Keep your microphone clean and help extend it's lifetime.
(1)Power Cable:
Length: Approx. 2.5m/8.2feet